What is velire?
Velire is a technology developed by Colasse SA since 2014 to provide an efficient and robust lighting system for the Sparfel LTE machine.
This system is made of selected horticulture LED lines casted in corrosion proof profiles powered by high efficiency power supply units.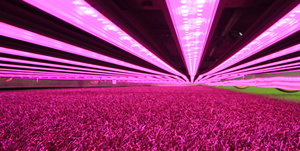 What is the LTE?
The LTE is an autonomous grass regeneration machine for sport fields. The machine optimizes all the climate parameters to stimulate the grass regeneration.
It requires less power and it is less bulky than the traditional HPS powered ramps. It is also much more efficient than other LED lighting systems that do not control the other climate parameters like moisture, temperature and CO2 concentration.
Its power efficiency, the long life time of the components and its eco design make it a lot more environment friendly than other artificial lighting solutions.
Visite the LTE website